September 08, 2009
Sudbury Catholic Schools Continues to Champion Technology for Students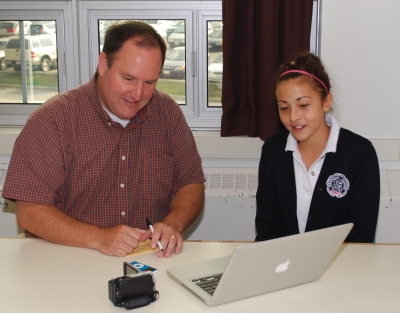 In a move to further support student success, Sudbury Catholic Schools are creating greater opportunities for students and teachers to learn through technology in the classroom. The school board recently strengthened its commitment to help students learn in ways meaningful to them with the addition of Technology Integration Mentors (TIMs). The TIM teachers will support classroom teachers and students to use technology in ways that enhance lesson planning, delivery and ultimately student learning and achievement.
Already, each student in Grades seven and eight receives a MacBook laptop as part of Sudbury Catholic Schools lead in promoting effective use of technology in student learning. In addition to the expansion of the TIM staff who will support teachers and students use of laptops, the Board has also purchased iPods, digital cameras and other tools to explore and create learning that responds to individual students' ways of learning and expressing themselves.
Sarah Falvo, a Grade 8 student at Marymount Academy, says the laptop technology has provided her with greater ways of understanding and demonstrating her learning to her teacher and classmates. "I have been using the laptops since Grade 7 and really enjoy working with them," states Falvo. "The laptops allow us to be creative and to try new things which makes the lessons fun… we can edit our journals and essays easily in English, produce lab reports and take tests in Science and work with mathematical formulas and quizzes which are directly related to our Grade 8 Math curriculum."
Greg Huneault, a TIM teacher, says that with effective planning and use, "the technology ultimately responds to each student's needs and interests, and engages the student where he or she is. "When we talk of classroom technology, it helps to understand its role in providing support to each student and teacher. With our MacBook program, for instance, every student in grades 7 and 8 uses software that allows them to create podcasts, multimedia presentations such as movies with voice-overs, music, and other products. The range of technology grabs the interest and natural talent of each student, and he or she typically becomes more engaged and interested in finding ways to learn and share the learning." Students in grades 4 and 5 use iBook laptops for similar purposes to create projects in all subjects. SMARTBoards are another tool Sudbury Catholic Schools have recently purchased for all classrooms in grades 5/6 to 8. The interactive boards allow teachers to design and deliver lessons to further engage students. Images from a laptop are projected onto the white board, which responds to a teacher's or student's touch that allows everyone to manipulate words and shapes on the large white screens, so students can better see and understand concepts. For example, students can observe and experiment instantly with how an object changes shape as its measurements change, or move parts of a sentence around quickly to see how meaning is changed. In Science class, concepts using video and virtual exploration of body parts can help students better understand in real life how systems work together in ways textbooks and chalk cannot.
Some secondary classrooms also use the interactive white boards, which are placing 21st Century learning technology ahead of traditional blackboards.