March 04, 2009
St. Mary Catholic School Celebrates Aboriginal Literacy Day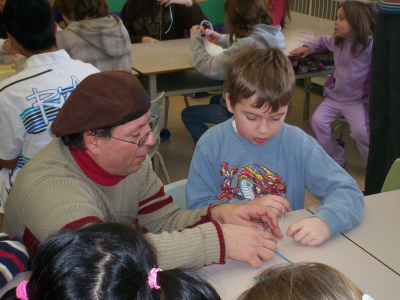 St. Mary Catholic School recognizes the importance of cultural connections with respect to students and the promotion of literacy. With that in mind the school hosted a unique "Aboriginal Literacy Day" linking Aboriginal cultural activities to relevant literacy programming.
Special guests invited to the school to share in the excitement of Aboriginal Literacy Day included Sudbury Catholic Schools Trustees, Barry MacDonald and Estelle Scappatura, Chief Ted Roque from the Wahnapitae First Nation, Connie Ubriaco – Sudbury Catholic Schools Technology Integration Mentor Support Teacher, Will Morin, Aboriginal Storyteller, and Verna Hardwick, Sudbury Catholic Schools, Native Studies Teacher.
St. Mary Catholic School would like to thank everyone who helped plan and participate in this special event. Special thanks to Dawn Wemigwans, Sudbury Catholic Schools, Aboriginal Lead, and to Mrs. Tammie Meeks – from Bannock to Dream Catchers.
Miigwech!