July 09, 2007
SCDSB Celebrates Technology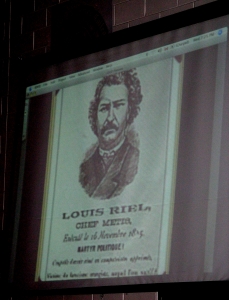 The Sudbury Catholic District School Board celebrated its first technology session by dedicating an entire evening to showcasing the authentic works of the Board's Grade 7 and 8 students with respect to its brand new "1 to 1 learning with laptops program" at
St. Charles College recently. Students, parents, teachers, and staff along with SCDSB Trustees and Senior Administration were treated to a host of high tech presentations in the form of movies, podcasts, interpretations of creative poetry, and historical events.
Lisa Samuels, Curriculum Coordinator for the Sudbury Catholic District School Board's Laptop program stated in her opening remarks to the audience that even though the Sudbury Catholic District School Board was the first and only board in Ontario to take on such an innovative project and faced numerous challenges, the students responded quite admirably and succeeded beyond the Board's expectations. "When we started this journey in September, I don't think any of us knew where this path would take us," stated Samuels. "We had no road map as no other board in Ontario has implemented a 1 to 1 laptop program system wide. Like the voyageurs who explored what was to become Canada, we set out into unfamiliar territory to learn how to effectively use the technology. Our goals were simple: increase student engagement, increase student achievement, provide every student with access to digital resources, and provide our students with learning experiences that are inquiry based in nature and foster what are called 21st century skills."
The Board's laptop program provided its students with an opportunity to explore the Ontario curriculum differently by allowing them to become critical thinkers and problem solvers. The project also afforded the students a great deal of flexibility in demonstrating their creative and innovative talents while working collaboratively as team. To assist and support the project, the Board sought the services and expertise of Apple Canada and its access to skilled educators who have been working with the laptop program for more than 15 years.
The evening showcased the authentic work from 5 schools, 8 teachers, and 200 students who were engaged with the Board's laptop program over the last year which included, multimedia poetry interpretations, mini documentaries on the opening of the west, a video diary of a science experiment, and public service announcements about the choices facing teenagers today.
Sudbury Catholic District School Board Chair, Paula Peroni is quite proud of the efforts of her students and the initial results of Board's laptop program. "Laptops have become a tool to learn with and not solely a tool to learn from," states Peroni. "Over the last several years the Board has committed itself to the expansion of the wireless laptop program into our Grade 7 and 8 curriculum. In June 2006, our Board purchased eleven hundred wireless laptop computers for every grade 7 and 8 student in our system. The wireless laptop program has had a dramatic impact on student learning and student achievement. This evening has been dedicated to showcasing the creative talents of the Board's students as they embrace the technology they will be using in their upcoming careers."