June 22, 2007
PIUS XII Deemed SCDSB School Conservation Challenge Champions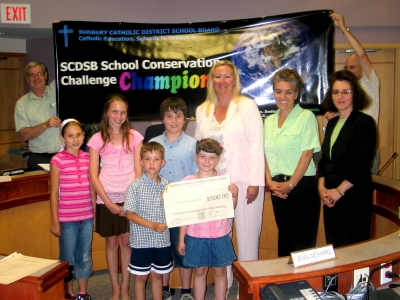 Pius XII Catholic School was proclaimed as the winner of the Sudbury Catholic District School Board's 2006-2007 Conservation Challenge. Board Chair, Paula Peroni presented the Pius XII Catholic School students with a $500 cheque and a specially designed banner which will be displayed at the school for one year as part of the Grand Prize. The presentation was made during the last Board meeting before the summer break.
The School Conservation Challenge was created by the Sudbury Catholic District School Board to increase the participation in the Dearness Conservation Initiative that was introduced into all of the Board's schools in 2001. Since the inception of the DC program, the Board has been able to achieve substantial utility savings by educating teachers, students and staff and providing them with the necessary resources through this program.
To help revitalize the program in 2006-2007, senior administration decided that a "Conservation Challenge" would be an excellent way to enhance the effectiveness of the program in addition to acknowledging the "Environmental Champions."
The selection of the 2006-2007 School Conservation Champion involved a point system based on three categories; (i) an unannounced site visit by the SCDSB's Facility Services Department, during the visit specific items were identified and reported with each school receiving a certain number of points (ii) an interview was conducted with the principal from each participating school. Based on the answers from the school principal, each school received points from the questionnaire (iii) In late May, schools were requested to submit reports dealing with Lifestyle Conservation Campaigns and other relevant materials such as videos/newsletters/announcements and presentations. Schools were awarded points based on their submitted materials. Pius XII Catholic School was chosen as the Grand Prize Winner based on the school that had accumulated highest total points in the three evaluations.