June 07, 2007
And the 2007 SCDSB Chairperson's Award Goes To…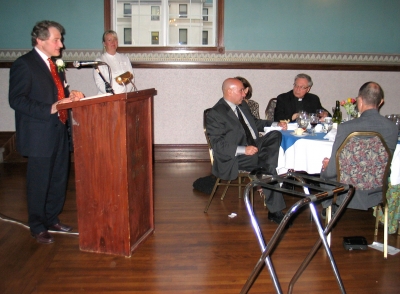 Maurizio Visentin, longtime teacher/guidance counsellor with the Sudbury Catholic District School Board was presented with the SCDSB Chairperson's Award by Board Chair, Paula Peroni at the SCDSB's annual 25 Year and Retirement Banquet held at Bryston's on the Park on Thursday evening.
Mr. Visentin's involvement with the Sudbury Catholic District Board began as a teacher for Marymount Academy from 1982 to 1996. He then moved to St. Benedict Catholic Secondary School as a teacher and later became the school's guidance councillor. In her address to the audience, Mrs. Peroni listed numerous awards of recognition that
Mr. Visentin had received throughout his teaching career which included; the Bishop Reding Outstanding Teacher Award, the Partners in Peace Program Award, the Service Above Self Award, the Excellence in Leadership Award (on two separate occasions), a citation for his outstanding support with the Canadian Red Cross' Respect Education Program and a nomination for the Premier's Award for Teaching Excellence.
"Mr. Visentin is well deserving of this award," stated Mrs. Peroni. "He lives and leads by example the Catholic School Graduate Expectations. He is a discerning believer, effective communicator, reflective, creative holistic thinker and a devoted family man. He promotes his secondary school in the most professional manner and that is why our secondary schools are held in such high regard in sports and academic circles in this city."