May 24, 2007
Marymount Students Set to Break Guinness Book of World Records With Largest Slab of Fudge – 5,050 lbs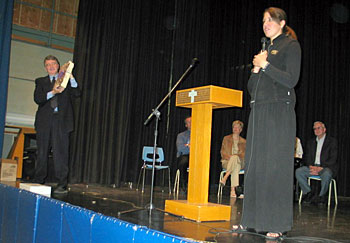 Marymount Academy students along with the St. Joseph's Foundation of Sudbury and Northwest Fudge Factory have teamed up in an attempt to break the Guinness Book of World Records for the largest slab of fudge. The current record stands at 4,444 lbs for a single slab. On Friday, May 25, 2007 at 11:00 a.m. the students will be creating a 5,050 lb piece of delicious chocolate/vanilla swirl fudge at the New Sudbury Shopping Centre at Centre Court.
The daunting task is part of Marymount's commitment to the St. Joseph's Foundation and the covenant agreement which was formalized between the two institutions last year. In the spirit of good citizenry, Marymount Academy students have adopted St. Joseph's Villa as their sister organization and are counting on the "sweet tooths" in the City of Greater Sudbury in helping them to purchase all of the 5,050 lbs of fudge made from the gigantic slab.
Once the record has been set and officially verified the students will be selling 2 lb pieces of fudge for $20 on Friday, May 25 and Saturday, May 26 during regular store hours. Bulk orders will also be sold, a 20-lb slab of the fudge will be sold for $200 which will include a "reserved" name plate with the name of the business/organization to be displayed on the actual chunk of fudge.
Marymount Academy students and staff held a "media launch" yesterday to help build enthusiasm and support for the fundraiser. On hand to share in the excitement and to motivate the students were Gerry Lougheed Jr., Chantelle Gorham, Owner of Northwest Fudge Factory, Jo-Anne Palkovitz, President and CEO of St. Joseph's Health Centre, and Chuck Murray, husband of Nancy Murray who is a resident of St. Joseph's Villa. All money raised from the "Largest Slab of Fudge" fundraiser will be directed toward the purchase of a "$25,000 state of the art" therapeutic bath tub for the new Complex Continuing Care Building presently being built.