July 04, 2006
No More Pencils, No More Books, But Definitely a Laptop!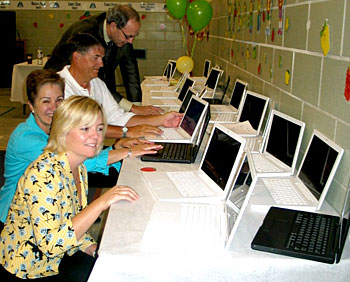 Representatives from Apple Canada joined the Sudbury Catholic District School Board's administrative team in presenting all of the Board's Grade 7 and 8 teachers and vice-principals with a wireless MacBook laptop computer in its 'Apple For The Teacher Day.' The Board passed a motion last week to purchase eleven hundred laptop computers in a bold move to bring more technology into the classroom this September.
Zandra Zubac, Director of Education for the Sudbury Catholic District School Board stated in her opening address to the teachers that today marks an historic day not only for the Sudbury Catholic District School Board but for the educational process across the entire province. 'Our Board is the very first Board in Ontario to give every grade 7 and 8 student a wireless computer,' stated Zubac. 'Through our partnership with Apple Canada we are championing new innovative and successful technological ways of delivering education to our students.'
Following the presentation of the wireless computers, consultants from Apple Canada conducted workshop sessions with the teachers, vice-principals and student leaders to help orient them with the new technology. "The teachers will be taking the wireless MacBook Laptop computers home for the summer to familiarize themselves with the new technology using the expertise they acquired in the workshops," stated Bob Kennedy, Consultant for Apple Canada. "Today the teachers are learning how use the new equipment, but it is very evident that once they are comfortable with the new technology they will continue to be the leaders as they integrate this new technology into the science, literacy, numeracy, religion, french and other programs," concluded Kennedy.
The Sudbury Catholic District School Board first introduced the wireless technology into the classroom in 2003-2004 by piloting the "Learning with Laptops Program" to a wide range of students from kindergarten to grade 6. In 2004-05 the Board decided to expand the wireless laptop technology into all secondary schools with the new Learning With Laptops-One to One Grade 9 Math program using Apple wireless ibooks. The mathematics-based program allows students to conceptualize the abstracts of mathematics and continues to integrate technology into the classroom setting. The 2005-2006 school year saw the Board expand its wireless program again by extending the availability of wireless laptops to Special Education students under a CODE grant in an additional six schools. Today, under Phase 4, eleven hundred wireless laptops will be making their way into the hands of the board's Grade 7 and 8 teachers and students for the fall of 2006.