June 13, 2006
Wireless Laptops Enhance Curriculum at St. James Catholic School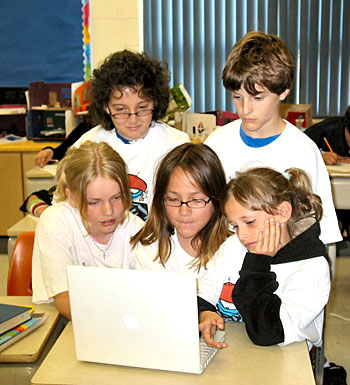 Students in Mr. Lusk's Grade 5 class at St. James Catholic School are not only learning to take care of their bones but they are sharing what they learned with the world. The students participated in the "Power4 Bones" program designed specifically for the Grade 5 curriculum.
Power4Bones is a FREE program that encourages students in Ontario to take care of their bones. As a final assignment they had to come up with catchy Public Service Announcements (PSAs) that could be used to educate the general public. This creative class of students went one step further by broadcasting their announcements on the World Wide Web. They recorded, edited and enhanced their PSAs using their Apple iBook laptops and some specialized software.
The students' broadcasts were uploaded to a 'podcasting' site that not only allows users to listen to the broadcasts, but also to download it to a mp3 player allowing the user to listen anytime anywhere.