April 19, 2006
Grotto Fundraising Committee Receives Support from Education Sector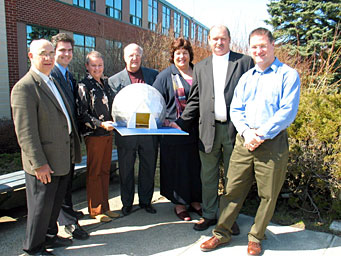 A local campaign is underway to fund the construction of a Dome on the Mountain of the Sudbury Grotto. "The Dome will be a symbol of the Global Village for humanity," states Father Perron, a member of the Grotto's fundraising Committee. "The large stained glass window above the entrance will represent the Holy Spirit-the history of humanity and of our lives. This monument will become a distinctive Sudbury symbol such as the Big Nickel," said Perron.
The redevelopment project of the Grotto recently received support from the Conseil scolaire Catholique du Nouvel-Ontario, the Sudbury Catholic District School Board, local English and French Catholic Teachers Associations, (AEFO and OECTA), as well as the Retired Teachers Association (ERO).
The purpose of the dome is to shelter visitors to the Grotto from the elements. It will also be used as a gathering place for class visits and for the sharing of values. The site has already become a favourite meeting place for students from across the region who gather for prayer and reflection. The Redevelopment Project Fundraising Committee will be extending invitations to all students for submission of sketches, drawings, poems, photos, etc., to illustrate their Judeo Christian values. This summer will mark the third consecutive year that individuals will participate in the Grotto of Lourdes summer program. Evenings of songs, music, recitals, presentations of plays and stories have been organized to allow for the exchange ideas and to permit time for prayer. The possibilities of ecumenical education in multi-faith and multi-cultural environments are limitless in Father Perron's belief.
Members of the education sector and the general public are invited to donate to this very important project. Please send donations to the Diocese of Sault Ste. Marie- Grotto Redevelopment, 40 Eyre Street, Sudbury, Ontario, P3C 4A5.
For more information please contact Ronald Perron, s.j. (705)673–3961.