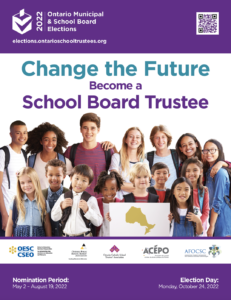 Influence the Future and become a School Board Trustee! Nomination and Campaign Period for Ontario School Board Trustees began Monday, May 2, 2022. The last day to be nominated is August 19th, 2022 (Nomination Day).
How To Run?
Those who are satisfied that they meet the prescribed requirements, as set out in the Municipal Elections Act, 1996, and wish to campaign for office must file a Nomination Paper with the Clerk of the City of Greater Sudbury. Nominations for office can be filed anytime between 9:00 a.m. to 4:00 p.m. at the One Stop Shop located in the foyer of Tom Davies Square.
Information for Applicants
If you're considering applying to become a Catholic School Board Trustee, there is information you need to know! Learn more about what is involved in this important role by visiting our page Information for Catholic Trustee Candidates, accessing the following campaign resources below and visiting the 2022 Ontario Municipal & School Board Elections website.
Resources