About the Killarney-Shebanoning Environmental Education Centre

The Sudbury Catholic District School Board strongly believes in providing students with outdoor experiential learning opportunities. In 2009, the SCDSB created The Killarney-Shebanoning Outdoor Environmental Education Centre. The Centre provides a safe, positive, hands-on and fun outdoor learning experience for elementary and secondary students. Our curriculum-based programs not only inspire students to connect with nature but also encourage a life-long motivation to learn in the outdoors. Through various programs offered, students can learn about the natural world, gain self-esteem, build peer relationships and explore traditional Indigenous teachings. Classes have the option of travelling to Killarney or taking part in one of our many outreach programs at locations in the Sudbury area. Outdoor education is a valuable teaching tool in achieving our goal to educate the mind, body and spirit. The programs offered at KSOEEC encourage learning through academic, physical and spiritual activities.
Welcome from Brad Blackwell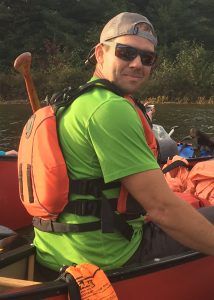 Throughout my entire life, the outdoors has been my playground. In my youngest years, my curiosity about the rocks, trees, and other wonders of the earth often occupied my thoughts. This was further strengthened through family adventures that were largely spent on the land and waters of Northern Ontario, and particularly the majestic waters of Georgian Bay and the North Channel of Lake Huron.

My interest in the natural world continued into my educational and employment pursuits. First, I earned a Bachelor degree in Earth Sciences, which enabled me to conduct geological work throughout many parts of Canada. My strong desire to become an educator led me back to university to obtain a Bachelor degree in Education.

From hiking the mountains of British Columbia and Alberta, to surveying in the vast tundra of Nunavut, to paddling the lakes of northern Ontario, I have had the privilege of exploring many parts of our great country. However, the smooth glacial carved rocks of Georgian Bay, its waters, wind-swept white pines and abundance of wildlife, truly make this land most remarkable and breathtaking.

I believe that all students should have the opportunity to learn in the outdoor classroom. Having an Outdoor Education Centre in the beautiful port town of Killarney provides an excellent environmental learning experience. It is now more important than ever that students learn about the environment and how they are a part of it.

Through hands-on and experiential learning, students will feel more connected to the environment and gain a greater respect and appreciation for the natural world. When students take part in outdoor investigations they are actively involved in the learning process and are able to see first hand the interactions in nature. Outdoor activities allow students to connect their mind, body, and spirit to the world around us.
Brad Blackwell,
Coordinator
Program Resources
Killarney Outdoor Education Poster
Current Programs