A new year is upon us and with this comes an opportunity to reflect upon what has been achieved and to look forward to what might come.
In this month's blog, you will find evidence of how we are living out our new mission:  To realize each student's potential within our inclusive Catholic learning community by nurturing and developing their mind, body and spirit; with a particular focus on how we are supporting the 'body'. 
Developing the mind, body and spirit are key to a balanced and healthy life.   As a Catholic system, educating the mind and feeding the spirit is part of what we celebrate every day.  This January, we also want to honour those educators who have spent countless hours and energy supporting and promoting good health in our classrooms and in our schools.
The stories below motivate me to look at my own activity level and what I can do to improve my own health.  I invite you to do the same, as we know that in order to be productive, healthy individuals, we need to pay attention to our activity levels and the food choices we make.    Let today be the day that we make time for healthy choices, as we know a healthy body promotes better mental health and is the building block to learning. 
Thank you to all our staff for making conscious choices every day to promote health and wellness in our classrooms, helping our students invest in a lifestyle where they will thrive.
Breakfast program continues to be a big hit at St. Charles College
Many of our schools offer breakfast/healthy snack programs to promote good nutrition. The breakfast program at St. Charles College is sponsored by the Breakfast Clubs of Canada and the Human League.  The school also receives fruits and vegetables from the Sudbury and District Health Unit.  On a daily basis over 1,000 students are served.  Students in the Lifeskills program at SCC prepare the food under the supervision of the food preparation teacher. These students have learned how to disinfect, match orders, read order slips and prepare food. Staff come in early each day to prepare the bins and two students from each homeroom pick up a bin and then return it before heading to first period.  This allows students to start their day with full stomachs, ready to learn!
Attendance in the program has improved each year. The program not only provides nutrition to our students, but also prepares them for life and builds community within the school.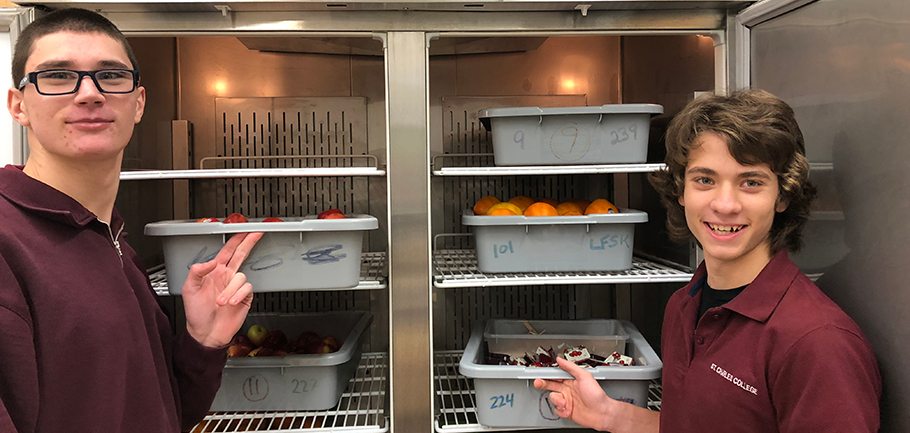 St. Francis community fully embraces the Northern Fruit and Vegetable Program! 
Beginning each January, our elementary schools benefit from the Northern Fruit and Vegetable Program in partnership with the Ontario Fruit and Vegetable Growers' Association and the Sudbury and District Health Unit. The program helps to educate our students on the value of healthy eating by providing opportunities to explore a variety of fruit and vegetables.
At St. Francis Catholic Elementary School, the program thrives with the support of staff, students and parents! Once a week, two different fruit and veggie options are delivered to the school. With the help of the EA's and ECE's, Grade 6 students distribute the fruit and vegetables to their fellow peers.
The program is well loved in this close-knit Catholic learning community. Lise Malette, teacher at St. Francis, says the program is an essential part of their day, helping to teach all students the importance of filling their bodies with healthy foods!
"It is so important to teach the students how to eat healthy at a young age. The program provides our students with so many opportunities to try different foods that they normally wouldn't be able to try, or wouldn't try themselves! Parents also love that we are encouraging the kids to get out of their comfort zone and try new things alongside their friends!" L. Malette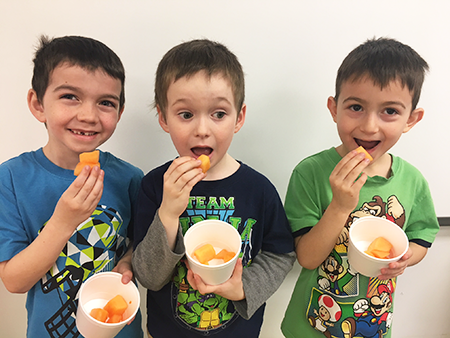 Our elementary schools shake up gym class!
Through daily physical activities, all of our elementary schools have the opportunity to participate in innovative and creative programs to keep our students healthy and energized. Take a look at some of the programs that are currently running at Sudbury Catholic Schools!
Pius XII 'Activates their Recess'
Pius XII continues to run the 'Activate Your Recess Program' to promote physical activity and fitness. This program was introduced in partnership with the Sudbury and District Health Unit and a local firm called Healthy Living Inc. Health related physical activities are promoted during recess breaks. Students are guided by staff to join teams and practice ball skills, foot coordination, and visual-motor integrity. Recess is never boring and it is a great way to increase fitness while having fun!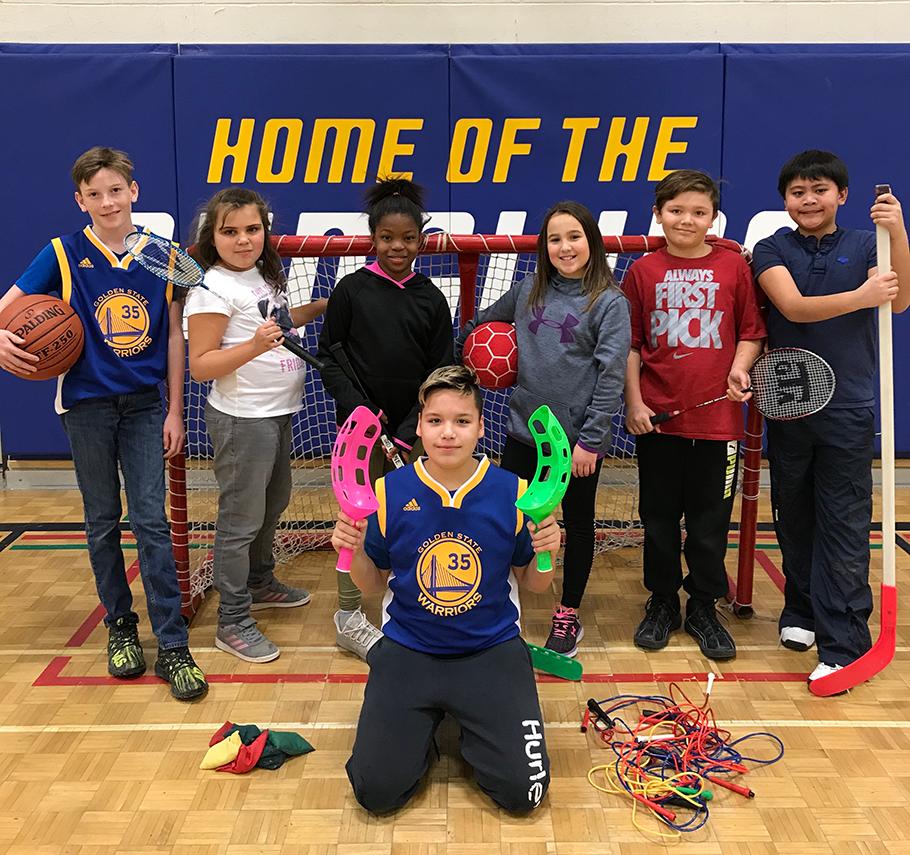 Holy Cross Elementary adds exciting new sports team!
Starting this year, Holy Cross Elementary is hosting a curling team. The students have had a ton of fun learning about the sport and working as a team! The group even completed their very first Curling Bonspiel this past month, holding their own against some tough competitors. Congrats on such an important accomplishment Cubs!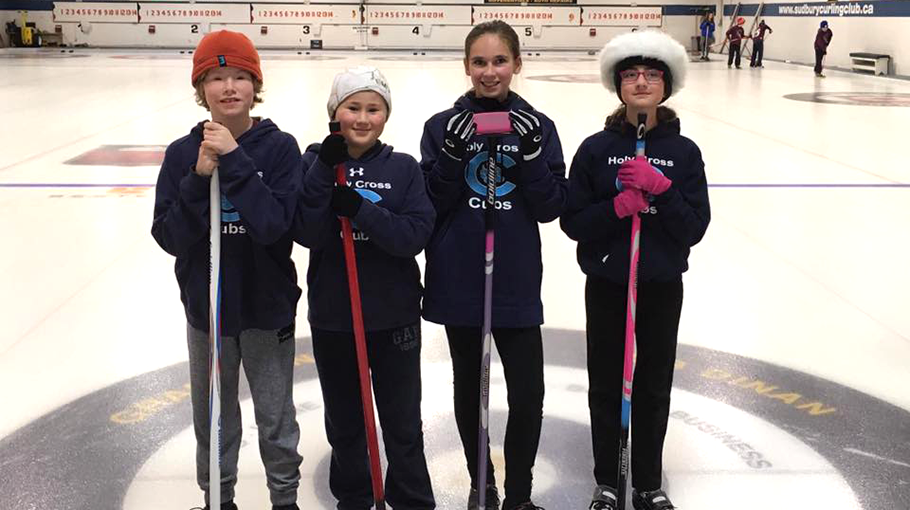 Secondary Schools excel in fitness and sports programs!
Our Secondary Schools are constantly exploring innovative ways to integrate fitness and physical activity everyday – giving students the tools they need to lead a healthy lifestyle in and out of school. All of our secondary schools offer a wide array of sports options in which they excel.  Each school also offers excellent facilities including newly renovated fitness/weight rooms which are used daily by students and staff.  We are very proud that we were able to invest in ensuring the best facilities for our students.
Here are just some examples of how our secondary schools are pushing the envelope on fitness!
Bishop Alexander Carter Catholic Secondary School
BAC is home to a unique program which started in 2014. The BEST (Bishop Elite Sports Training) program helps students achieve success in academics, leadership, sports and fitness. Students benefit from the program by seeing direct improvements of both their overall fitness routines as well as their studies.  During the 2016-2017 school year, the school went one step further and assessed the effectiveness of the program with a group of Grade 9 students. The Grade 9 students rotated between three different fitness routines. They then made their way to math class with a focused mind and overall improved mood! Throughout this project, students reported feeling more organized and confident in their school work, and participation in their math classes increased! By the end of the pilot project, 77% of participating students exclaimed that they looked forward to coming to school each day! Way to stay committed Gators!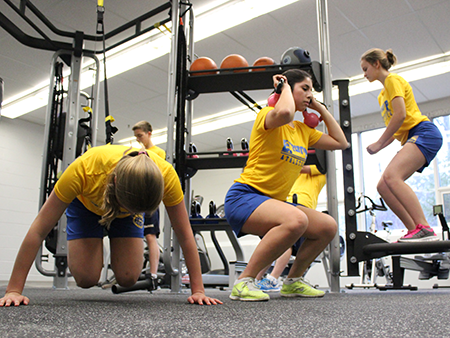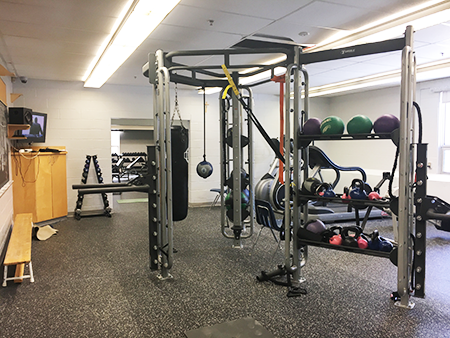 Marymount Academy
From their success on the football field, to their ventures into wrestling, Regals prove time and time again that their passion for fitness and team sports propels them to new heights! At Marymount Academy, the girls help direct sport related activities through the Girls' Athletics Association. The Athletics Association helps promote various sports teams and fitness activities occurring in the school. The group has also put together diverse spirit weeks that have proven to be a big success! The girls always look for ways to increase student morale and school spirit.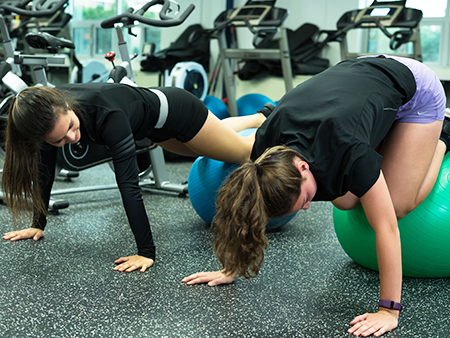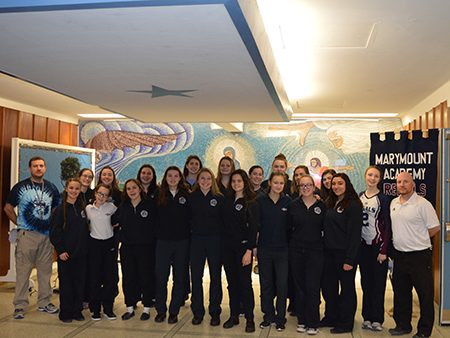 St. Benedict Catholic Secondary School
St Benedict students look for innovative ways to improve their overall mental and physical health. This month, the school was proud to offer yoga sessions for staff and students at lunchtime. Yoga has proven to be an exercise that benefits both as a physical fitness routine and helps improve mental health and strength. Staff and students were thrilled to participate in the program, returning to their classes with an improved focused and overall mood!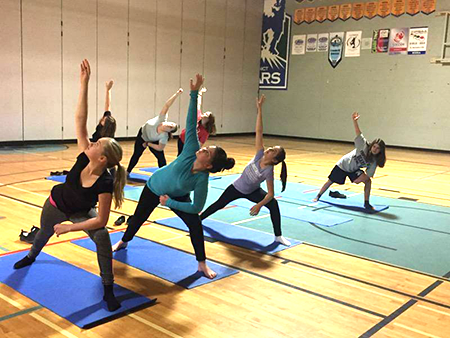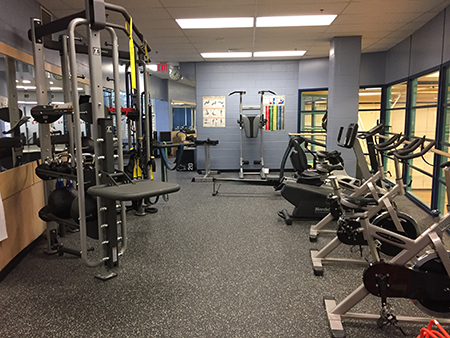 St. Charles College
St. Charles College is home to two programs geared toward fitness. Both the Health and Wellness program and the Sports and Recreation program are offered to Grade 11 and Grade 12 students. Students take part in various certifications and training that go toward their credit. They also have the opportunity to participate in reach ahead activities, taking take part in field trips to fitness training facilities, professional sporting events and tour health and wellness programs locally!  This year, the groups were able to take part in Laurentian University's Future Leaders program, providing them with the tools they need to succeed in leadership!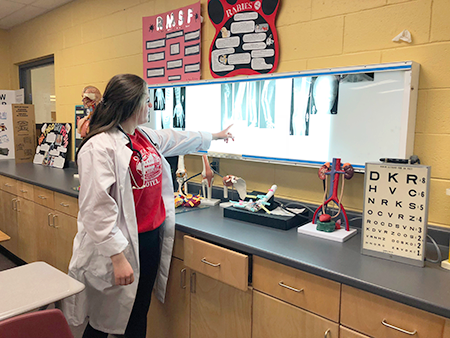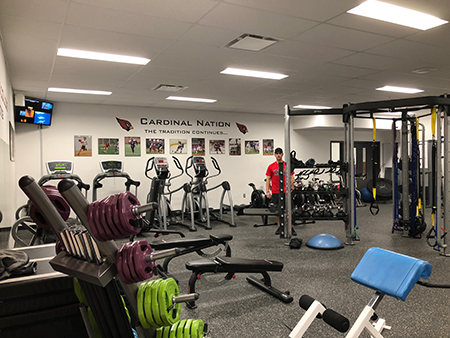 Get to know us!
When Chantal Dagostino isn't busy teaching the students at St. Charles College, she is running the highly successful FitSpirit program at Sudbury Catholic Schools! FitSpirit is a program that promotes young girls to be more engaged in physical activities in their schools and communities.
At Sudbury Catholic, Chantal has been running the FitSpirit program for the past few years, seeing many of our schools succeed! The first year the program ran in Greater Sudbury, 6 out of the 10 participating schools featured Sudbury Catholic students. Since then, hundreds of students have flourished in the program with six schools currently signed up for 2018.
Chantal believes the program paves the way for young girls to make a difference in their fitness journeys and to try out new activities.
"The Sudbury Catholic District School Board's mission is to the nurture the body, mind and spirit, creating a healthy lifestyle for all students. FitSpirit provides an inclusive classroom environment where everyone's success is part of the journey! Each participant works toward their own potential at their own pace."