This month, we explore the topic of student voice. Student voice encourages our students to work together on projects, collaborate and present a vision for what they want to see at Sudbury Catholic Schools. Today I had the pleasure of spending the day engaged in conversations with student representatives at Bishop Alexander Carter. Students shared their thoughts on what they appreciate about their school and how it might be improved. Through very respectful conversations their ideas will help to inform our work at the school and system levels. I look forward to many more such visits over the next two months. As a system, we are proud to encourage and promote student voice and engage students as partners in learning.
St. James Student Council organizes Winter Carnival to encourage physical activity
The Student Council at St. James School recently organized a Winter Carnival for students and staff. The goal of the event was to promote outdoor physical activity. All students from Kindergarten to Grade 8 participated in the event. Grade 7 and 8 students ran the activities/games while Grade 6 students served as team leaders.
There are currently 12 students who sit on the St. James Student Council and they plan fun activities and games year round. What a fun and engaging way to promote student voice in the schoolyard, way to go Bears!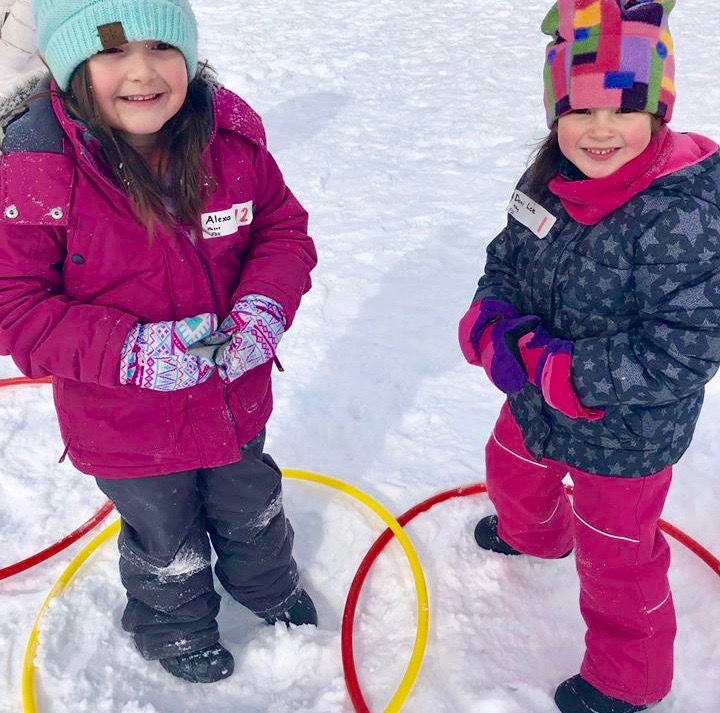 St. John Student Council work together to create change!
St. John Catholic Elementary School has an active student council made up of students from Grade 4 to Grade 6. The group meets five to six times a year and works together to plan events and brainstorm ideas to further improve their school!
This year, the Council has worked together to plan candy gram fundraisers and cupcake day fundraisers in support of the SPCA, school dances and just this month organization a special Ash Wednesday celebration. The Council even got a chance to go through a formal election process with a mock election. As the weather warms up and the season changes to Spring, the group is now turning their attention to playground safety; they will brainstorm ideas as a group of how they can ensure students are safe and being active in the school yard.
This is what our students had to say when asked about the importance of student voice and the Student Council at St. John:
"Student Council is a lot of fun, but it's also a big responsibility!"
"Student voice means that we're able to give our opinion about certain issues and find a solution that fits everyone."
"I like being a student rep at my school."
Great job St.John, we can't wait to see what you come up with next!
St. Mark students showcase their crafting skills
St. Mark students are embracing student voice in a creative way! The students are currently working together with the help of parent volunteer Denise to create a quilt for their local Church. The quilt will then be auctioned off.
Funded through the social action grant Imagineaction, the students are also creating a second quilt to help fund their transportation to track and field events. Both projects encourage student voice and creativity!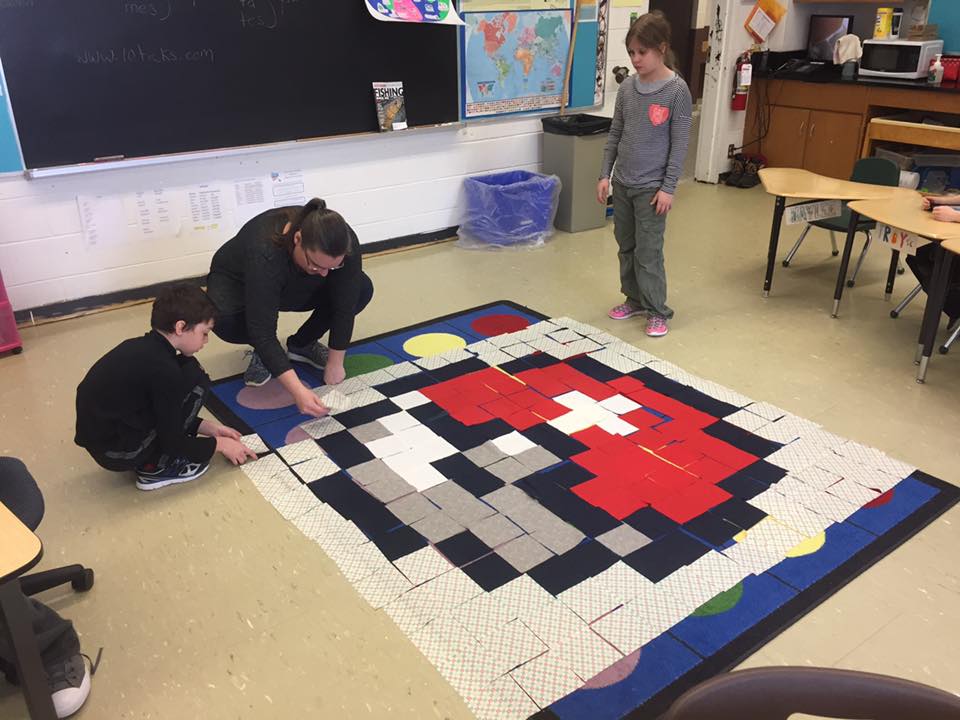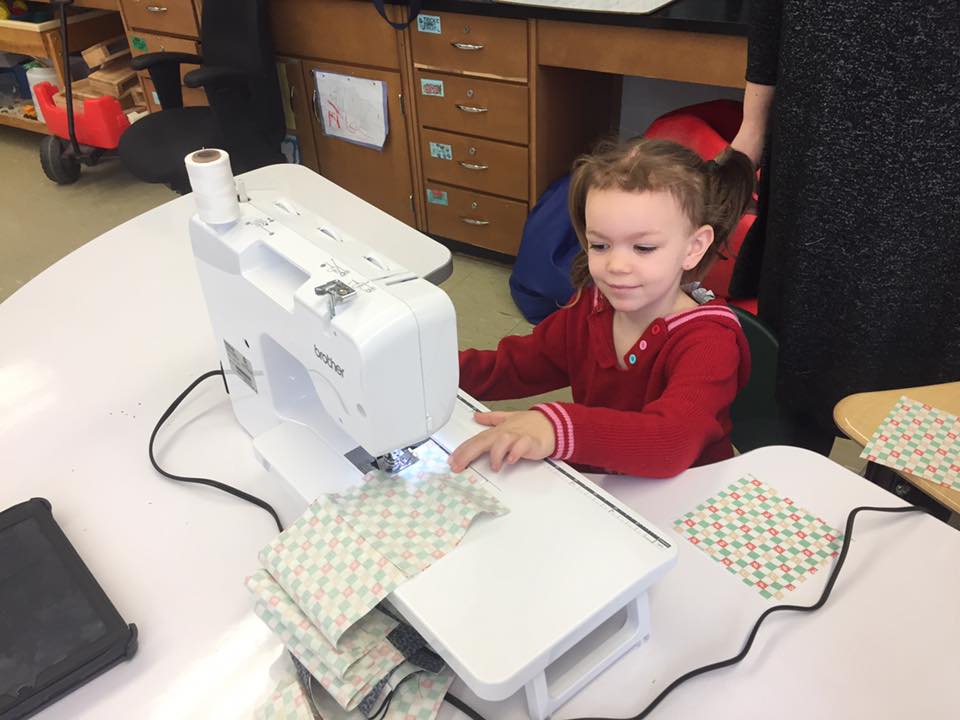 Bishop Alexander Carter students give back to their sister school
Bishop Alexander Carter supports a sister school in Tanzania, East Africa. Students hold various events throughout the school year designed to raise money for the school and its community. It all began when Grade 12 students heard from a former St. Anne Student, Tracy Pepper who battled ovarian cancer at an early age (Grade 5). This impacted her life greatly and when in her 30s, she set a goal of climbing Mount Kilimajaro. After her successful climb, she spent some time in Tanzania and fell in love with the people. She saw first hand the horrible conditions of the schools and noticed that children were not often able to attend school because of the cost. Tracy started a non-for-profit organization to help children attend school.
Tracy spoke to Grade 12 students about her journey and her non-for-profit organization. The students decided to adopt one of the schools and began working on events and fundraisers to raise funds and support for the school. The students started with a beans and rice campaign at Thanksgiving. Five cents will feed three children beans and rice for the day. Students have also organized a taco Tuesday lunch, bake sale and will be hosting a floor hockey tournament in April to raise money for the high school in Tanzania that is run through Tracy's organization. It is so amazing to see what student voice has the power of doing!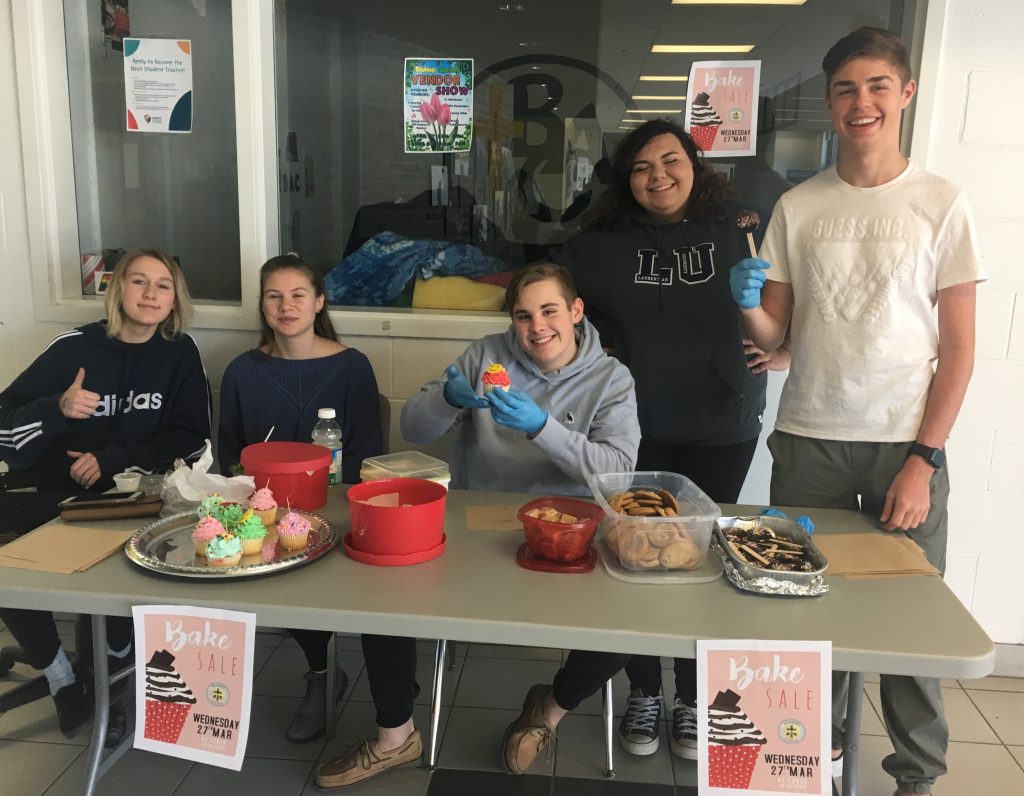 International Students share their experiences in scholarship contest!
Three current International students participated in an activity about their experience in Canada and with Sudbury Catholic.
Zihao Wang, Grade 11 Student at St. Benedict from China has been in Sudbury for two years. In his video he spoke of how much he loves living in Sudbury and going to school at St. Benedict. Last semester, he took Visual Arts with Mr. Timpano and really enjoyed the course.
Phillip Tran's video featured vignettes about his host family, his life at Sudbury Catholic and he also spoke about loving nature and fresh air. Phillip also indicated that he asked his host parents if he could call them "mom and dad" because he feels so at home in their household. Phillip joined St. Benedict this year from Vietnam.
Anh Nguyen from Marymount Academy also shared her video which described her positive experience at her school, with her host family and her love of being outdoors!
Anh Nguyen's video

Zihao Wang's Video

Phillip Tran's Video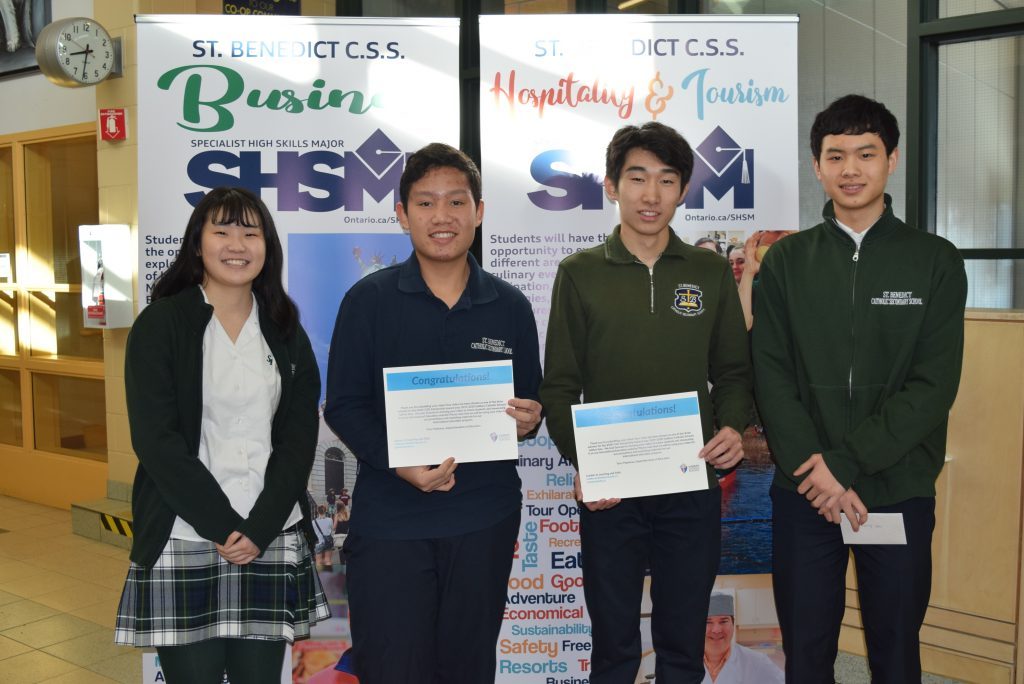 Marymount Charities Council gives back to MS Society
The Marymount Academy Charities Council is currently made up of 12 student members who organize fundraisers for both the global and local community. Each year, they select an organization that they want to focus their efforts on. Upon hearing that one of their own school community members had been diagnosed with multiple sclerosis (MS), the students took action and organized events to raise funds for MS Society.
The students have worked together to create and sell branded crew neck sweatshirts and t-shirts. The group has also organized a penny table at Marymount's upcoming craft table and is currently working on finalizing a buy-out for students to participate in. The council will finish their fundraising efforts with their annual canvassing event this Spring.
Amy Godin, Grade 12 student and President of the Charities Council at Marymount, feels that the Council serves a very important purpose when promoting student voice.
"I think that student voice means that it provides us with the opportunity to speak passionately about what matters most. The Charities Council is the perfect example of this. We serve on the Council because we want to give back to our community and we want to help others!"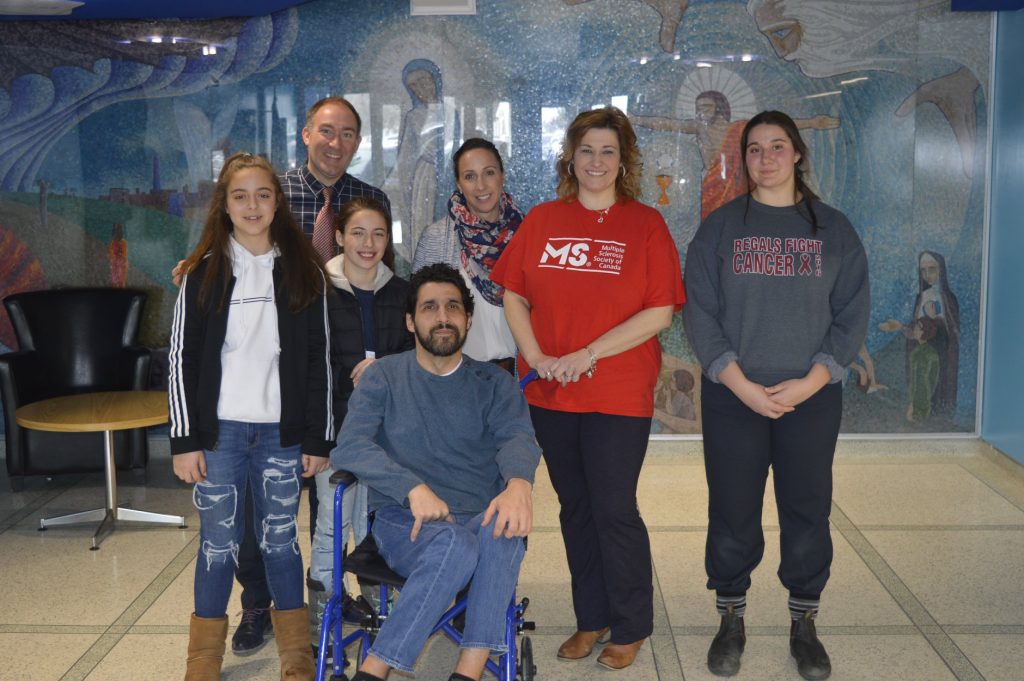 SCC takes on New York at the Model United Nations Conference!
The students at St. Charles College celebrated God's mystery through reflection and moral living when they debated with over 5000 students from around the world in New York City. Our very own youth assembled together to take on the role of a United Nation's Delegate in order to help resolve International crisis and bring about peaceful solutions.
Under the leadership of Jaime Sauve, law teacher at St. Charles College, 23 students had the opportunity to participate in the world's largest United Nation's Conference, to discuss current global issues in a real world context. St. Charles College was one of only 8 Canadian schools who participated in this influential conference and the only Northern Ontario School.
Students were deliberate in their discussions and showed integrity in their ability to persuade others to make morally acceptable decisions. They were unwavering in their tenacity to make positive changes for the wellbeing of mankind. This experiential learning initiative has supported students in working on their various skills, which were displayed through critical thinking, compromise, negotiating, public speaking, writing, and research.
Students also had the chance to meet with the Australian Ambassador and attend the opening ceremonies held at the United Nation's Headquarters! We are very proud of all our students who participated this year as it not only challenged students to take on a leadership role, but it also fostered global awareness and resiliency within students.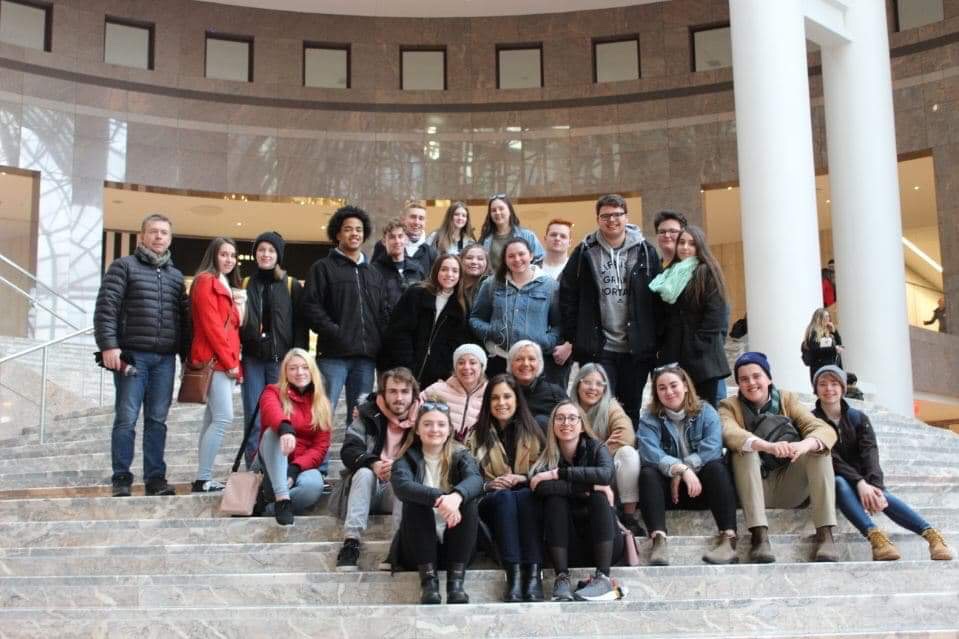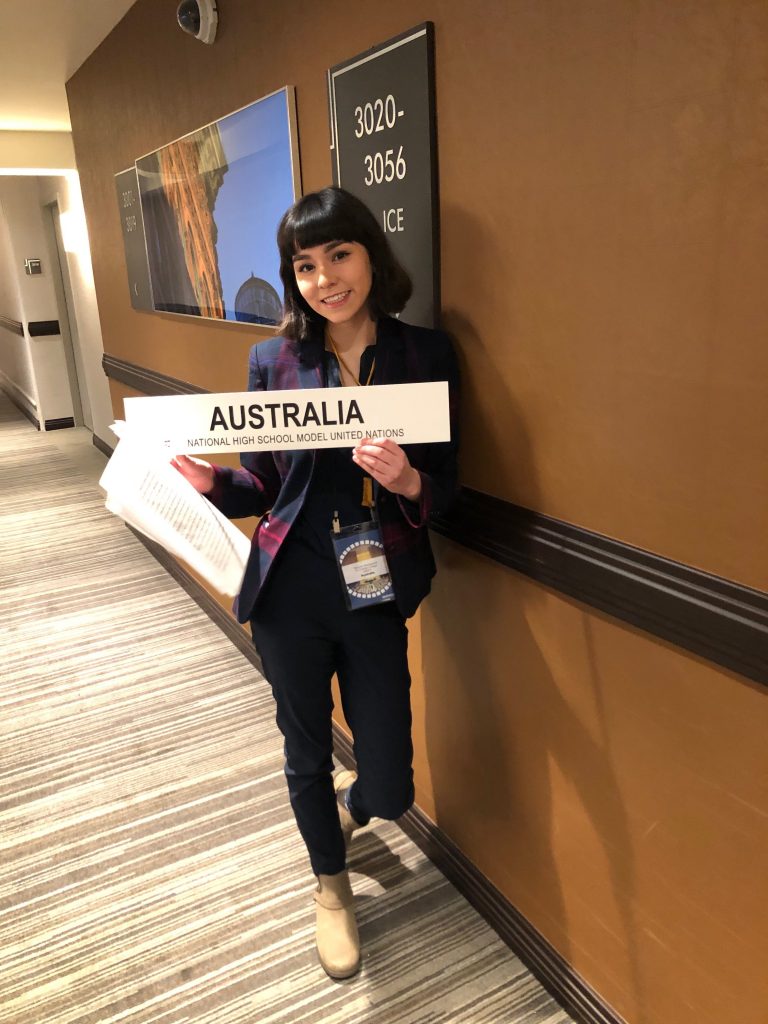 Get to know us!
Our Student Senate is made of student representatives from each of our four Secondary Schools. They are seen as the leaders within their school communities and work to amplify the voice of students, bringing it into the boardroom.

This year, Student Senate has organized many different events and initiatives to help support our community! They began their year by participating in our Faith PA day in October, presenting the importance of Renewing the Promise. They then organized a very successful coat drive in December, contributing over 150 coats to those in need. The group also gave back to their community by participating in a day at the soup kitchen, serving meals and building relationships with an important local organization. All of these events, they said, promote leadership, networking and above all, student voice.
"Student Senate is the ultimate example of student voice," said Kira Gouchie, Student Trustee. "Each school is represented and the system allows students to have a platform at the Board level, something that is really important to all of us."
The Student Senate will close out their year with another visit to the local soup kitchen and will help organize the Model UN conference being hosted at St. Charles College in May. Students from all four of our high schools will come together to discuss and find solutions to difficult International problems.