The hope of spring is upon us! The birds are returning and the crocuses will soon be sprouting.  There is excitement in the return of sunshine, warmth, and longer days, bringing colour to our world. Everywhere we look, God's presence surrounds us. As spring gently overcomes the cold, let us too be renewed and truly embrace the joy as we continue through the Easter season. 
This month we highlight and share our schools achievements in the Arts.  Education in the Arts is essential to developing students' intellectual, social, physical, spiritual and emotional growth and well-being. Through dance, drama, music, and visual arts, students can achieve their potential as learners and develop the skills they require for success.  At Sudbury Catholic, we are proud to support and encourage the Arts.  Whether it be a musical instrument, a dance program or theatre production, our students thrive in an environment where creativity, problem solving, critical thinking and innovation is encouraged! I am so pleased to share some of the many examples of Arts in action throughout the Sudbury Catholic system.  A focus on the Arts allows us to achieve all 3 of our strategic pathways:  We are called to strengthen our faith-based, inclusive and equitable community; We are called to promote innovation; and We are called to advance leadership and learning for all.
Elementary schools use music to teach new skills
To encourage creativity and improve upon skills, our elementary schools use music and instruments within their lessons! We are very proud to offer many varied opportunities for our students to develop skills in the Arts, including offering all Grade 7 and 8 students Instrumental music classes with very skilled and passionate teachers. 
The music is alive at Holy Trinity!
Students at Holy Trinity Catholic Elementary School have been enjoying ukulele lessons with instructor Dave Carlson each week during the month of April. Although this is a new instrument for both students and educators, many teachers have taken the initiative to grow as music educators by taking online tutorials and embracing the opportunity to learn alongside their students. 
Ukulele lessons are helping students build a growth mindset.  Students are having fun, learning the importance of patience and perseverance and developing coordination and motor skills.  For many students, this is the first instrument they have ever played and a wonderful opportunity to develop rhythm and listening skills.   
 "We are so lucky to have this opportunity to learn to play the ukulele with Dave, he is not only giving students a chance to learn a new instrument, but he has been supporting me as an educator as I embrace this learning opportunity!" N. Bellemare-Perron, Gr. 3 French Immersion Teacher.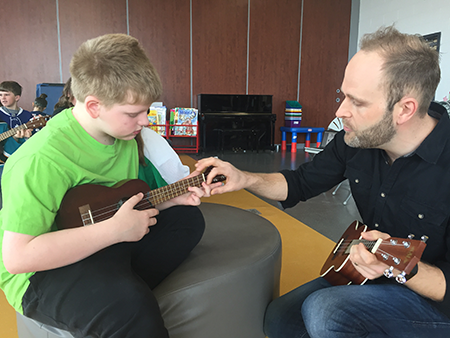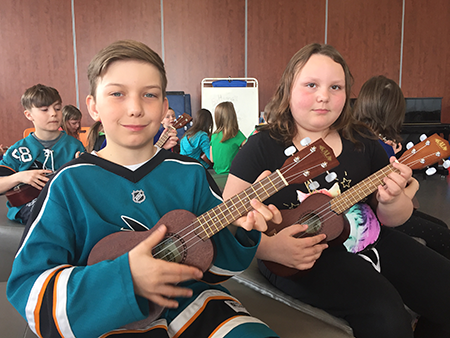 Pius music lessons and Ojibwe
Pius XII students have been learning and practicing the National Anthem in Ojibwe for the past few weeks.  The students' overall skills have improved drastically, and they will be singing O' Canada on Wednesday mornings at Pius XII School!  On May 11, students will be performing the National Anthem at the St. Charles College Powwow. In the future, the students hope to perform the song live as part of opening ceremonies for various events at the school level.  The Arts are an important element of learning languages and provides students with a deeper appreciation of their culture!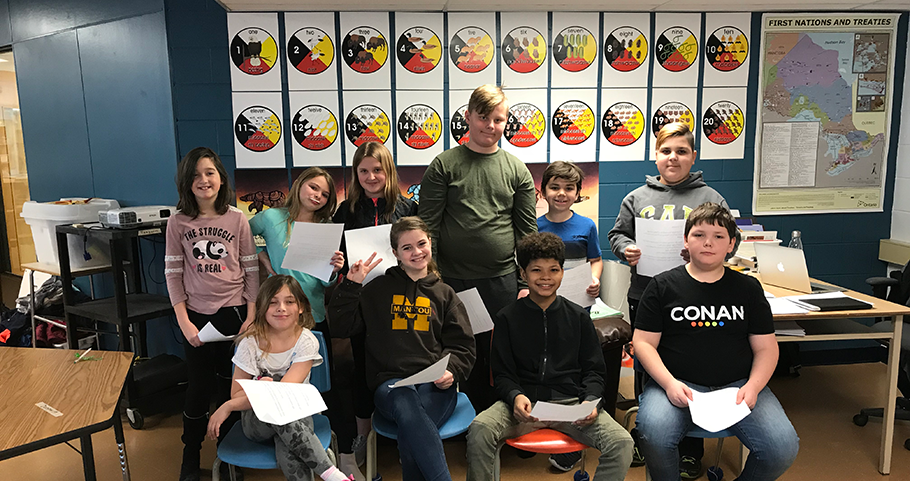 Elementary Instrumental Band remains successful in competition!
The Sudbury Catholic Elementary Band was formed 8 years ago under the direction of JoAnne Comisso and Leanne Urso.  The initial schools involved in the band were St. Francis, St. Raphael and Pius XII with approximately 25 to 30 band members in total.  Over the years, the band has grown, and now includes 5 schools (St. Benedict, St. Charles College, St. Anne, St. John and St. James) and over 100 band members! The band has seen a lot of success over the years, and has given students the opportunity to learn new skills in a professional atmosphere. This past year has been no exception! On March 1st, the band performed at the Northern Ontario Music Festival and received a Silver standard.  On March 27th, the band performed at the Kiwanis Music Festival and received a Gold standard. Additionally, the band received the Top Elementary School Concert Band Award at the final awards night on Monday, April 16th! 

The band is directed by JoAnne Comisso, Leanne Urso, Eric Miron and Jody O'Daiskey.  Band members practice each week at their own schools and get together once or twice before performances to put the whole band together.
"It is quite an accomplishment for so many young players to be able to come together with such a cohesive sound after so few full-ensemble practices.  The band is currently preparing for their Spring Concerts at each of their home schools and a trip to the Canada's Wonderland Music Festival in May," L. Urso.


Secondary Schools are ready to put on a show!
Our Secondary Schools put on a variety of plays each year for our community! The staff and students involved work incredibly hard throughout the year to make these events a success! Take a look to see what creative shows and programs our schools have in store for you this spring!
Annie at Bishop Alexander Carter
Orphan Annie wants nothing more than to be reunited with her parents and escape the run-down orphanage and Miss Hannigan. She gets the chance of a lifetime to escape when billionaire Oliver Warbucks invites Annie to stay at his mansion for the holidays. Bishop Alexander Carter invites you to join this large New York play right here in Sudbury this May! The Senior Dramatic Arts students present Annie being performed on May 17 and 18 at BAC!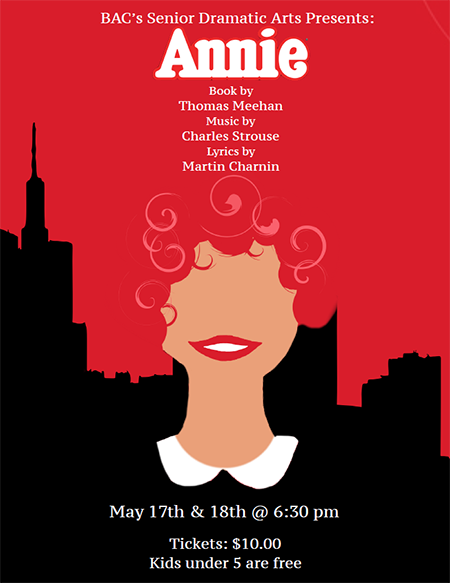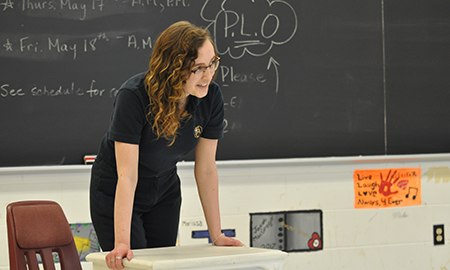 Fly away on a magic carpet this May with St. Charles College!
When street rat Aladdin frees a genie from a lamp, he finds his wishes granted! However, he soon finds that the evil Jafar has other plans for the lamp — and for Princess Jasmine. Can Aladdin save Princess Jasmine? St. Charles College is proud to present Aladdin Jr. the musical this spring! Directed by Christina Thompson, Patty Demore and Blaire Michaud, this play will hit the stage on May 1, with performance occurring until May 5 2018. Tickets are $10 and can be purchased at the door!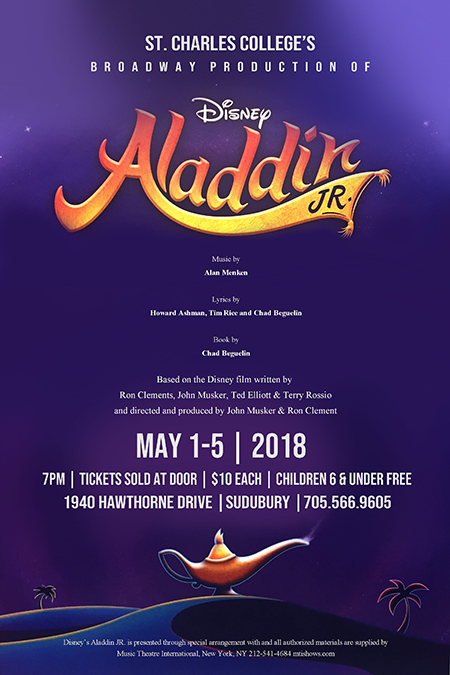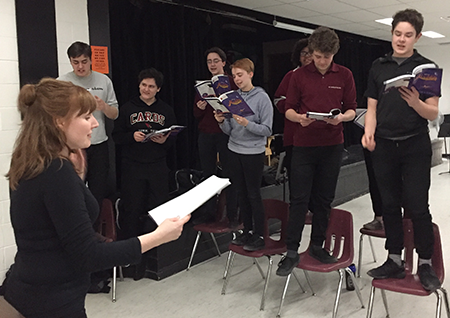 Into the Woods: a Marymount Academy play
What do Cinderella, Little Red Riding Hood, Jack and his beanstalk and Witch all have in common? You can see them all on stage at Marymount Academy! Based on the retelling of classic Brothers Grimm fables, this musical tells the story of a baker and his wife who want to have a child of their own. When the witch casts a curse on them, they set off a journey to break the curse but find their lives may never be the same!  Marymount Academy's adaption of Into the Woods will take place on Friday April 27, at 6:30 p.m.!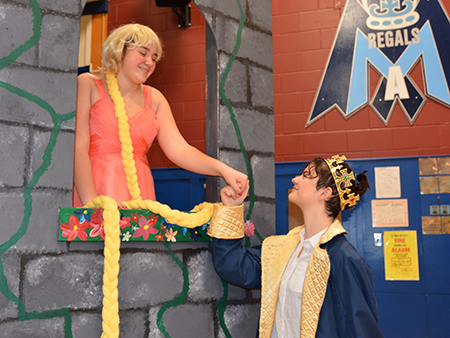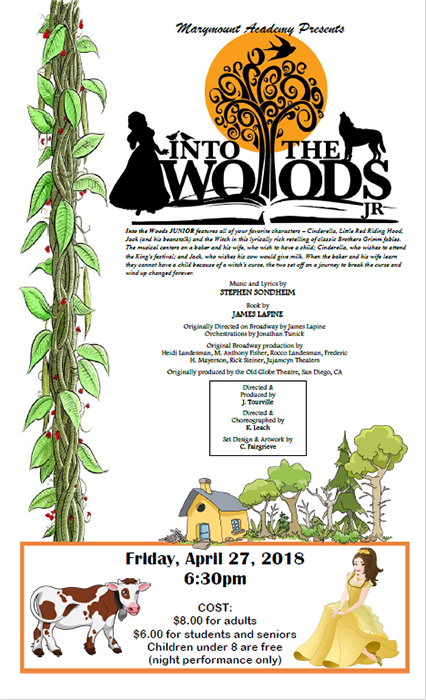 Sudbury Catholic Students dance it out!
While St. Charles College is already well known for their arts department and clubs, Patricia Demore, an Art teacher at the school, thought of one component that was missing from the programs.  With such a passion for the arts, music and dance, she wanted to bring dance to the SCC school community.  Through hard work and dedication from staff and students, the St. Charles College dance team was born!  
During the past 9 years, the team has performed at the St. Charles College Annual Christmas Concert, Sport Pep Rallies, The Sudbury Christmas Parade, Holy Redeemer Church (Performing for the Parishioners enjoyment), the SCC Relay for Life and this year has marked the 8th year on the Sudbury Christmas Telethon! The team consists of dancers from a variety of skill levels including beginner and competitive level dancers.
"I am so proud of their dedication, commitment and hard work that the team puts in each practice and performance they do! They have a true passion for dance and I love seeing students light up from being given new opportunities to learn and grow as an individual and performer!" P. Demore.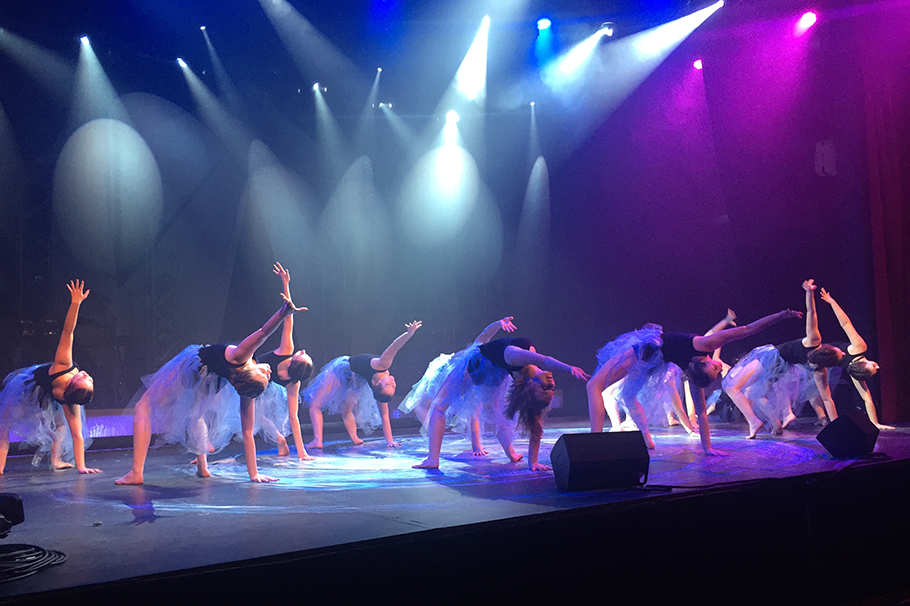 Holy Trinity students are also having fun, enjoying some physical activity and embracing their artistic abilities in Dance Club. With the support of teacher Kelsey Franklin, students have been meeting bi-weekly to learn new moves and create a dance performance for the school's talent show happening later this spring!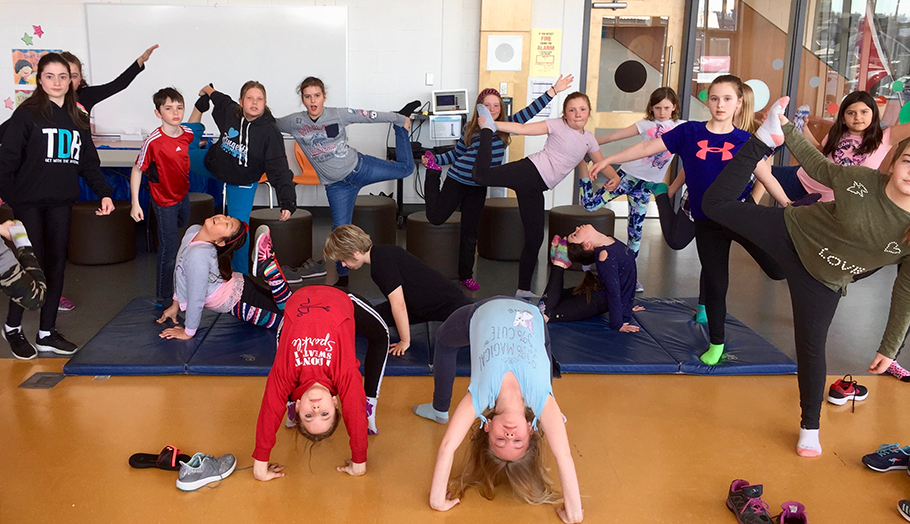 Get to know us!
This month it is our pleasure to introduce you to two inspiring and talented students – Hannah Frattini and Taylor Dixon. 
Inter-disciplinary courses (IDC) place capable students in visible leadership roles within our schools. At St. Benedict Catholic Secondary School, two students have used visual arts to develop critical and creative thinking. Students Hannah Frattini and Taylor Dixon hope to inspire others with their visual arts projects!
Hannah wishes to pursue a degree in business. Hannah uses the creative process to organize her ideas in order to successfully communicate them with administration; asking for permission to pursue her projects around the school, much like pitching a business plan to future employers, investors or clients.
Taylor has been accepted into Laurentian's School of Architecture. She uses concepts, skills, models, resources and technology to plan out the various projects, either on a small scale or for the entire school!
IDC students are trusted to work independently utilizing the resources and workspaces available to them. The work of the students is overseen by St. Benedict's Visual Arts teacher, Bruno Timpano. The role of Mr. Timpano is that of an advisor and mentor using his experience of project implementation to guide Hannah and Taylor through the creative process. Mr. Timpano will often remind his students "Your job is to be awesome. My job is to facilitate you being awesome."  While our students are awesome so are our teachers!